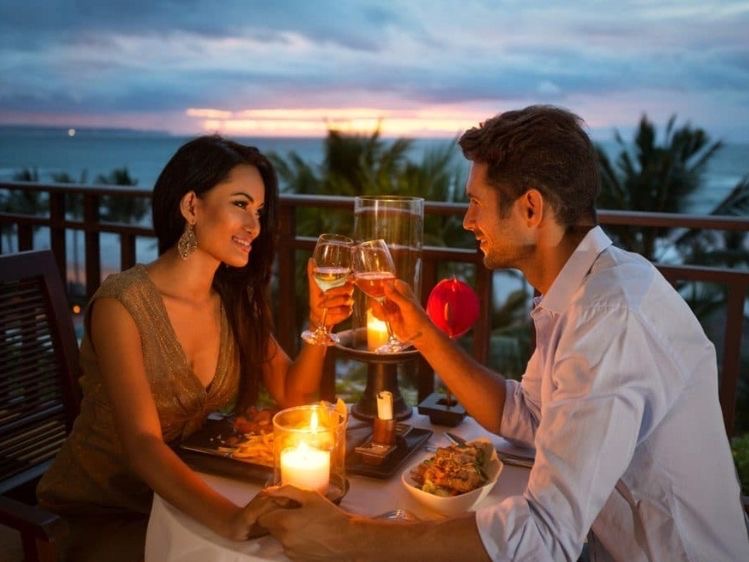 January 06, 2023
Megans Models Dinner Date Etiquette
Dinner date escorts are experts at providing attentive and charming companionship over a romantic dinner. Whether you are dining in Madrid or Milan, our dinner date etiquette translates the world over, and it is important to respect it.
Megan's Models has put together a list of things to do and not to do when you are on a dinner date with an escort, so both parties feel completely satisfied.
1. Respect her boundaries and wishes
We cannot emphasise the importance of this point enough! If a companion does not want to discuss specific topics or go further than the dinner date, do not push her. While you are paying for a dinner date, you want the experience to be enjoyable for both of you, and being mindful of her boundaries ensures you can properly enjoy your time together.
2. Generosity
Whilst this may differ depending on the situation, offering to pay for the meal is considered good manners. Treating your dinner date and showing you appreciate your time together is a great way to be thankful for the experience you have had together.
3. Be on Time
Our companions are in high demand with their own lives and schedules. When you book with Megans Models, you should have arranged a date and time that both you and your lovely dinner date are free. Punctuality is key to getting as much time together as possible rather than rushing what should be a serene dinner date. So don't be late! It's never okay to be a time waster.
4. Polite and Courteous
All of our models are polite and sparkling conversationalists who love dinner dates and are overjoyed when their client expresses the same attitude. So please refrain from asking them anything too personal or making vulgar comments, as it can make an escort uncomfortable. You are on a date, so be the best version of yourself and be sensitive to the wonderful lady sitting opposite you.
5. Present yourself well
Nothing is worse for a dinner date escort than when a client smells terrible and dresses inappropriately for the environment. Our models love to dress to impress, appearing naturally stunning to blow you away. Matching their effort is an excellent way for you to look like the most impressive couple in the restaurant. Also, a nice aftershave and a crisp suit will definitely impress your date!
6. Avoid Personal Topics
As mentioned, probing an escort to reveal personal topics they do not want to is unacceptable. For example, asking them about their family or personal details about their profession breaches their privacy. Try to steer the conversation to similar interests, such as music or travel, to find common ground that will take your dinner date to the next level. Our escorts have a range of interests they cannot wait to share with you, and a mutual engagement will give you the dream dinner date experience.
7. Don't Drink too much alcohol
Meeting a stranger for a dinner date is undoubtedly a nerve-racking experience. Therefore it can be easy to use alcohol as a crutch to combat this anxiety and get carried away. We advise you not to drink significant amounts of alcohol. It may get overwhelming for an escort if you are drunk or lead you to act in ways you otherwise wouldn't. So to ensure the date is a success, try to limit your consumption.
8. Listen and Show a Genuine Interest in them
Whilst it is fantastic to have a beautiful busty model hanging onto your every word, this is a dinner date, and their interests matter too! Let the conversation bounce back and forth rather than talking purely about yourself. Once the evening starts to flow this way, you will lose yourself in each other's company and have the perfect evening you pictured.
9. Do not expect free services afterward
If you have booked and paid for a dinner date service, that is what you get. You are not entitled to free time and services from an escort. All of the services escorts provide are in their profile, so if you want an overnight stay in an expensive hotel to follow your date, ensure these details are already in your booking.
10. End the Night on a Positive Note
As you depart, thank your companion for what was, hopefully, a wonderful evening. You can want to be sure she gets home safe but go your separate ways if that is what she wishes. Walking her home may seem like a gentlemanly gesture, but her home is her private sphere, not part of her professional life, and you are not entitled to her personal time. If you want to see her again, you can book her and discover new ways to spend time together.
Final Thoughts
Our etiquette guide is not just suggestions but rules to follow so you can both have a fantastic evening. If your behaviour makes your dinner date escort uncomfortable, they may refuse your services again. Or if you are incredibly inappropriate, the agency may blacklist you from ever using their services again, so be mindful of your conduct.
Also, if your escort is not enjoying your date, you won't. Following this guide will give you the most magical experience our girls at Megans Models love to provide. So, what are you waiting for? Now you know the dinner date etiquette, book one of our gorgeous escorts today!
To find high-end dinner date locations in cities such as London, check out our blogs to help inspire your evening with an escort.